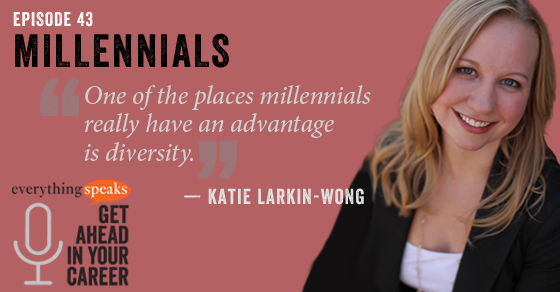 Why Millennials Can Offer a Unique Perspective (feat. Katie Larkin-Wong)
On episode 43 of Everything Speaks, host and Double Forte CEO Lee Caraher interviews Katie Larkin-Wong, millennial and litigation associate at Latham & Watkins, a law firm focused on white collar and antitrust matters. She is also past president of Ms. JD is a nonprofit, nonpartisan organization dedicated to the success of women in law school and the legal profession
Katie talks to Lee about how she advanced her career and gives some examples on how millennials are shaking things up in the workplace.
Key Takeaways:
There is a disconnect between how millennials are perceived and how they actually show up at work.
Millennials have an advantage on diversity. They are the most diverse generation to date.
Millennials offer a unique perspective and can therefore drive unique initiatives. Still, millennials must be open to learning the business and then they can leverage their unique skill set.
Before you spend money on advanced training or a specialized degree, find a way to test the field first.
Even if you know exactly what you want to do, consider varying your career path so you have a more compelling career narrative.
Resources: