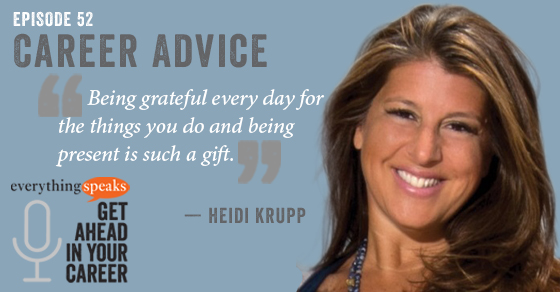 There's No Straight Line to Success (feat. Heidi Krupp)
Double Forte CEO and Everything Speaks host Lee Caraher sits down with the co-opetition. Heidi Krupp is the founder of Krupp Kommunications, a strategic public relations firm headquartered in New York City.
Together Lee and Heidi talk about getting started in a communications career, how perseverance and a willingness to ask for help are key strengths, and why there's no straight line to success.
Key takeaways:
If you want something, say it out loud.
Ask for help!
When you are helped, or even before, help others.
When you get advice from someone who is helping you, take the advice.
Be open to meeting people and talking to people everywhere you go.
When someone comes to you and says I think you should do something listen.
There is no straight line path to success.
Your definition of success will most likely change over time.
Your definition of success will never match anyone else's. That's okay.
Gratitude is a great career tool to keep you on track.
Be hungry. Be curious. Be entrepreneurial.
Social media allows you to demonstrate your skills even before you land your first job.
Have a  great attitude. It is your most important skill
Resources: Krupp Kommunications