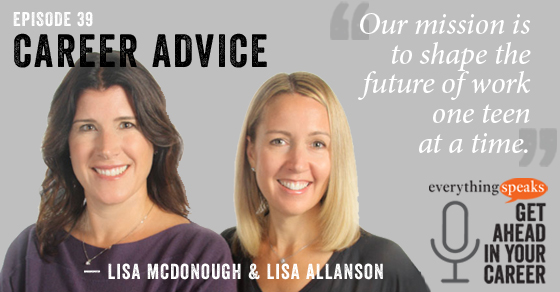 Shaping the Future of Work One Teen at a Time (feat. Lisa McDonough & Lisa Allanson)
On the latest episode of Everything Speaks, host and Double Forte CEO Lee Caraher sits down with Lisa McDonough and Lisa Allanson, the founders of TeenHackz, a company that helps teens become life ready, work ready and resilient. TeenHackz provides tools and resources to help parents of teens instill productive habits and behaviors in the home, and facilitates workshops for schools, employers and community groups. Lee, Lisa and Lisa talk about how young people can prepare themselves for the workplace.
Key Takeaways:
Parents today are taking away their children's' ability to problem solve.
Kids today need to help their children learn to communicate without a device.
Parents should not show up in their adult child's workplace. No one at work cares about what your parent thinks.
The only thing that is relevant to the workplace is how you show up.
The start time for work is when you are ready to work, not when you start making your coffee.
Details matter. Today's workers need to have an attention to detail.
Always check your personal email at work. It helps you get the best volunteer opportunities for your personal commitments.
Additional Resources:
Millennials & Management: The Essential Guide to Making It Work at Work
Primal Leadership: Realizing the Power of Emotional Intelligence
TeenHackz: Raising Resilient Teens
Age Appropriate Chores for Children