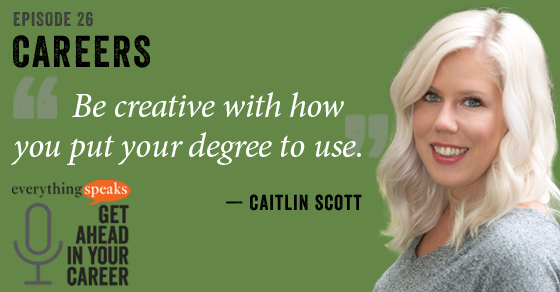 Be Creative With Your College Degree (feat. Caitlin Scott)
This week on Everything Speaks Lee sits down with Caitlin Scott, a senior communications counselor at Full Court Press Communications. Caitlin has a background in traditional PR but moved to her current position at Full Court to work with foundations, nonprofits, startups, and other mission-based organizations to help them achieve social change. She and Lee discuss how to land your first job after college.
Key Takeaways:
Getting your first job out of college is the most important thing you can do. It probably won't be "the" job, but it will lead you there.
You can't make a wrong decision choosing that first job because, no matter what, you're going to learn something from it.
If you get the chance to live somewhere other than your home city or state, take it. It gives you a broader perspective.
If you don't know someone at the company or in the industry you want to work for, be brave and get your own foot in the door.
Applying to jobs is a numbers game; it's like dating. Apply for as many jobs as you can.
There is nothing more important than learning how to write. Business writing is not creative writing or writing an English, political science, or history paper. Learn how to write for business.
Take advantage of your college Career Center. Get advice on your resume. Practice interviewing. Learn how to use Skype and other video interviewing tools.
Resources:
Full Court Press website fcpcommunications.com
Twitter @CaityScott