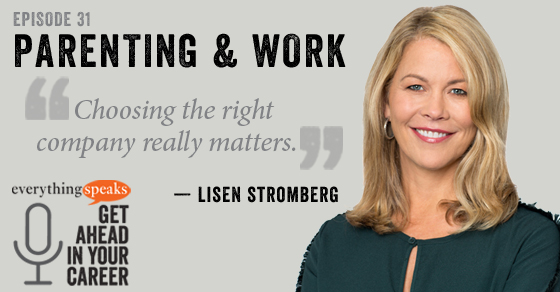 How to Be a Parent and Thrive at Your Career (feat. Lisen Stromberg)
In today's episode of Everything Speaks, host Lee Caraher sits down with Lisen Stromberg, award-winning journalist and author, of the book, Work Pause Thrive: How to Pause for Parenthood Without Killing Your Career. Lisen always excelled at her career. She got her MBA, was headed toward a brand manager position with a major consumer packaged good company, and then was recruited to run a division of a large advertising agency. But after the birth of her second child she felt there was no room for her to be a mother in a competitive work environment. So Lisen started a consulting practice working with companies to attract, retain and promote women. She and Lee discuss how we can bring our true, authentic selves to work and contribute to a thriving workplace.
Key takeaways:
Expect you will have a nonlinear career. You will change jobs, companies and industries. You will make changes to accommodate your personal life. Plan for that.
Create a plan for how you will handle your career around life events such as becoming a parent. But know the plan is just the starting place. You will deviate from it.
Look out 50 years and think about what you want to achieve and use those goals as key anchors to navigate your life and career
The right company matters close to your childbearing years: you need a good culture, a good boss, and a flexible work/life situation.
Choose a life partner who will share breadwinning and home responsibilities 50/50.
Build a foundation by networking. And that means building a strong personal brand too.
Links & Resources:
Lisen on Twitter
Lisen's website: LisenStromberg.com
Work Pause Thrive: How to Pause for Parenthood Without Killing Your Career