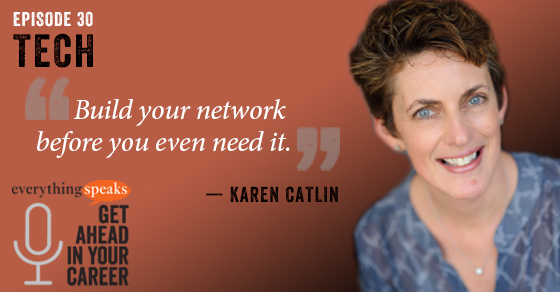 We Need More Women in Tech (feat. Karen Catlin)
This week on Everything Speaks Lee sits down with Karen Catlin, of Karen Catlin Consulting. Karen is an advocate for women in the tech industry and coaches her clients to be strong leaders and men to be allies for women. Prior to starting her business, Karen was vice president at Adobe Systems and had a long career writing software. Together she and Lee talk about the need for diversity in Silicon Valley, the importance of networking, and why it's critical to become a better public speaker.
Key Takeaways:
Beware hidden bias that boys are better suited for technology than girls.
Build your network before you need it
Schedule lunch dates – especially with people who are in different roles, industries and departments.
Use LinkedIn – connect with everyone you know, peers, professors, neighbors, coworkers. You never know how these relations will help you in the future.
LinkedIn has a feature where you can leave notes about how you know someone.
Describe your work by impact instead of activity.
Ask questions. Understand the context for any assignment you are given. "Ask why are we doing this project?" or "Why is this work important?"
To become a better public speaker, set a goal for how often you will speak publicly.
Own your expertise! It could be lessons you've learned, cautionary tales, or experiences you've had that will help someone else.
Resources:
Present: A Techie's Guide To Public Speaking
Follow Karen on Twitter: @kecatlin #womenhelpingwomen