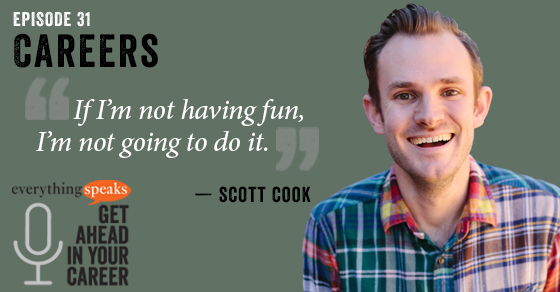 How to Leverage a Non-Traditional Degree (feat. Scott Cook)
Today on Everything Speaks, host and Double Forte CEO Lee Caraher sits down with Scott Cook, an account executive at Lessonly, a startup that builds learning software for onboarding employees. Together they discuss whether or not your college major affects your career. Scott, who received a master's in trumpet performance, realized that although music was his passion, he didn't want to turn it into a professional career. Next Scott pursued a career in a rock climbing gym. Ultimately, by leveraging his connections and searching for a career that utilized his diverse skill set, Scott discovered he was a natural fit for sales.
Key Takeaways:
Your passion and your job don't have to be the same thing.
Think about how the lessons you learn pursuing your passion or earning your degree carry over to the business world and apply them.
Good contributors who are hard to work with don't get work. You need to know how to function in a team.
Hiring is random. Use your contacts. Use your unique skills and network.
Attitude, culture and approach are inherent.
Having the skills to do a job is important, but if you have the right mindset and the right drive and the right approach, the skills can be learned.
Be honest with yourself and the people around you about your skills and your interests and you will land in the right company and the right role.
Resources:
Follow Scott on Twitter: @CookWS