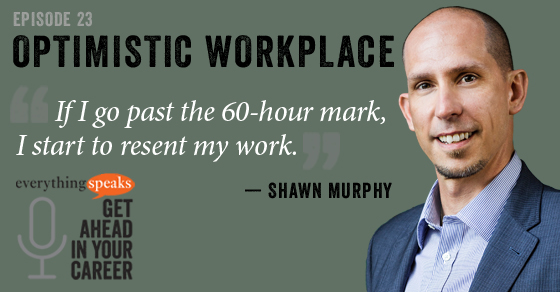 Why is it Important to Have Work-Life Integration?
In this episode of Everything Speaks, Lee sits down with Shawn Murphy, CEO and founder of Switch and Shift, a consultancy dedicated to developing positive business and leadership practices. Shawn is also the author of The Optimistic Workplace, a book that teaches you how to cultivate a positive work environment. Together they talk about why Shawn believes millennials approach their careers with a different mindset – and why that's a good thing.
Key takeaways:
Organizations need to shift their mindsets to value and implement meaningful work, a sense of purpose, autonomy and flexibility to attract and retain today's worker.
In order to avoid disappointment in your first job, before you apply, do research on the company, and specifically, the culture. Indeed, Glassdoor and LinkedIn can all give you clues.
If you don't know how to handle a work situation or conversation, then start with that. Have a request and an offer ready.
When you ask for a mentor, tell them why you chose them, what you re working on, how long you want the relationship to last, and how you envision connecting with them.
From a performance perspective, you will get more out of employees if they are able to spend time doing non-work things. That's why work life integration matters.
If you ask for work life balance, be a trailblazer and make it work! What are you willing to do to accommodate your requests?
Resources: Switch and Shift