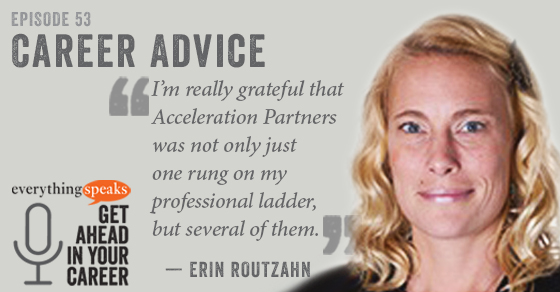 How to Make a Smooth Transition Between Jobs (feat. Erin Routzahn)
Double Forte CEO and Everything Speaks host Lee Caraher sits down with Erin Routzahn, Senior Account Manager at The Penny Hoarder, a personal finance blog. Prior to joining The Penny Hoarder, Erin was happy working at Acceleration Partners, but she was open with her supervisors that she was eager for a new challenge. She and Lee talk about how Erin was able to make a smooth transition from one job to the next and why it's so important to show appreciation for the people and companies who have made a positive impact on your career
Key takeaways: 
Career building need not be disloyal to the companies you work for.

When you find someone who is willing to help you advance your goals, listen to them.

If you have a strong work ethic and get results, people will help you along your career path.

Where you work – geography wise – matters. Find your "place" in the world.

The more you can be open with the people around you, the more likely you are to build a solid reputation that can benefit you for years to come.

Long transitions are generous and appreciated.

When you do leave a job, wrap up your assignment in a bow.

Don't forget to show appreciation for the people and companies who have made a positive impact on your career.

It's up to you to be a person who can be rehired. Start by saying thank you.

You will run into former colleagues again. Act accordingly.

You create your own career path. How will you bring people along that path with you? It's your choice.

Don't burn bridges. Period.
Resources: The PennyHoarder