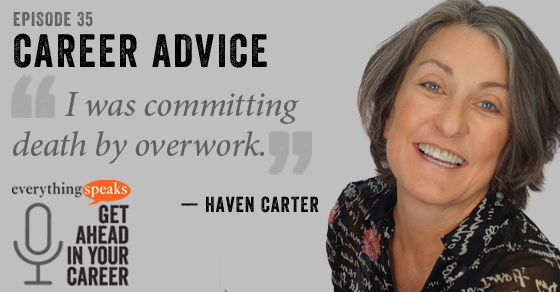 How to Get Control of Your Career (feat. Haven Carter)
Today on Everything Speaks, host and Double Forte CEO Lee Caraher sits down with peak performance coach Haven Carter. After working at SEGA, Sony, and Rocket Science, Haven Carter was at the forefront of entertainment technology. But despite her success, she was overworked, unhappy and unhealthy. Then she discovered meditation and a new way of approaching her career. Together Lee and Haven talk about how to be more mindful in life and at work.
Key Takeaways:
Ask for what you are worth, especially if you are a woman.
You are the only one who can manage your career.
We can't always do what we love all the time, but we can find a way to weave what we love into what we do.
Meditation is a powerful medicine, especially for the overworked.
You can't make a bad first choice with your first job – just start.
You do not choose your life the day after you graduate college.
It is acceptable to move around in your career and take breaks occasionally.
We all have to work; so you might as well be happy with what you do.
Find a strong mentor who can support your choices and decisions.
We all have our own thread as to what drives us and makes us happy. No two career paths will look the same.
Comparing yourself to your coworkers is a recipe for unhappiness.
Always keep in mind what attracted you to the company you work for. Every company has a unique point of view.