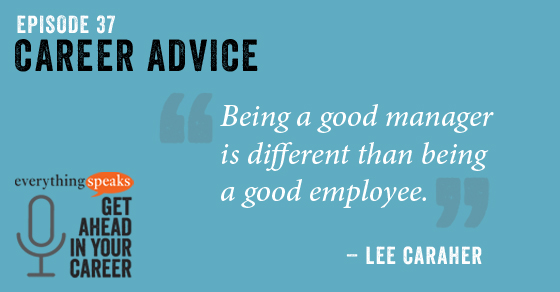 What to Expect as a New Manager
Today on this solo episode of Everything Speaks, host and Double Forte CEO Lee Caraher talks about the complexity of going from employee to manager – from solo contributor to team leader. She shares tips for first time managers and ways to lead an effective team. And, she discusses different leadership styles and when to apply them.
Key Takeaways:
Read the book Primal Leadershipby Daniel Goldman. This book helps you understand your mode of leadership and how best to apply it.
Learn the difference between what is important and what is urgent.
Know that managers are responsible for other people's success , not just their own.
State your expectations are out loud. How do you want your team to operate and communicate?
Let people know how best to accommodate their life and their work.
Model the behavior you want to see from your team.
Additional Resources:
Millennials & Mangment: The Essential Guide to Making It Work at Work
Primal Leadership: Realizing the Power of Emotional Intelligence
 The 7 Habits of Highly Effective People: Powerful Lessons in Personal Change