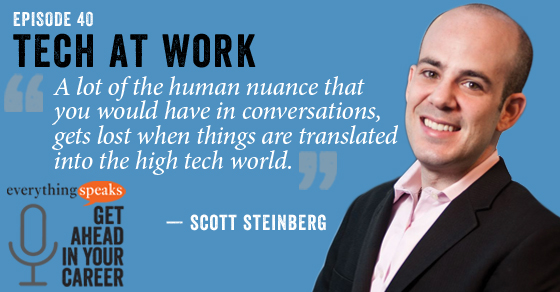 The Etiquette of Tech at Work (feat. Scott Steinberg)
On the latest episode of Everything Speaks, host and Double Forte CEO Lee Caraher interviews futurist, keynote speaker, bestselling author and strategic consultant, Scott Steinberg, about how technology is changing the way we communicate at work.
Key Takeaways:
When texting, think about the time you're sending the text, as well as the spelling, the tone, and most importantly, how it might be interpreted.
Mirroring is a great strategy for high tech communications. Match the style of the person with whom you are interacting –especially when they are a client or a boss.
Human nuance gets lost when translated to the high tech world.
Sometimes, emoticons are appropriate, if they add context or humanize a message.
Don't use Bitmojis with clients!
Take your earphones out when you are talking to people.
Avoid making phone calls in public! Find a quiet place.
Using a device in a meeting signals you have put a low priority on the meeting.
If you ask your boss to connect on social media, know they may see things that do not reflect well on you professionally.
Networking online is no different than networking in person. Build a relationship before you start selling.
Always double check your emails before you hit send.
Additional Resources:
Netiquette Essentials: New Rules for Minding Your Manners in a Digital World