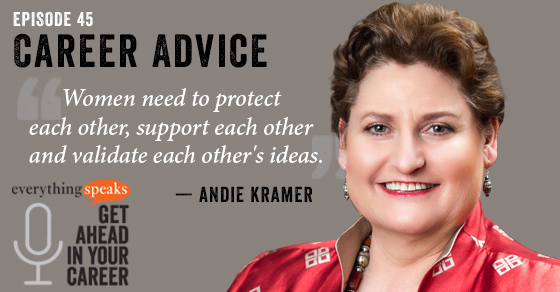 Breaking Through the Bias Holding You Back (feat. Andie Kramer)
Host and Double Forte CEO Lee Caraher sits down with Andie Kramer, author of Breaking Through Bias: Communication Techniques For Women To Succeed At Work. Kramer is a partner with McDermott Will & Emery where she serves as head of the firm's Financial Products, Trading and Derivatives Group, is a founding member of the Diversity Committee and co-chair of the Gender Diversity Subcommittee.  Together, Lee and Andie discuss how to tackle unconscious bias in the workplace. Specifically, they address techniques to protect and support your fellow colleagues.
Key Takeaways:
Workplaces today, even the most well-intentioned workplaces have unconscious, unintentional bias.
"Piling on" is an effective strategy for amplifying woman's voices in the workplace.
"Gas lighting" dismisses someone's legitimate concerns in the workplace and often happens related to claims about bias.
A sense of humor goes a long way in diffusing uncomfortable conversations in the workplace.
Effective communication requires you knowing who you are, what you want to accomplish and how you are making it happen.
Ask yourself how you need to change the way you communicate in order for the other person to hear it.
We are all a whole mix of personalities and talents. We need to decide which aspect is appropriate in each situation.
Don't say you're sorry unless you have truly transgressed.
Avoid up talk. It makes you sound insecure and invites unwanted input.
Take up space in a meeting. People give space to people who are important.
If people aren't paying attention to you in a meeting, stand up to speak to them.
Resources: Breaking Through Bias: Communication Techniques For Women To Success At Work