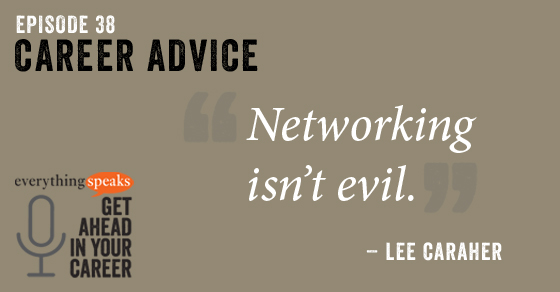 8 Ways to Get Better at Networking
Today on this solo episode of Everything Speaks, host and Double Forte CEO Lee Caraher talks about networking. Whether you like it or not, networking is essential to your career. Lee shares eight actionable tips to improve your networking skills – and results!
Key Takeaways:
Choose one networking event per quarter and aim for three new contacts per event.
Always have a networking goal before you go to a networking event.
Show up early and let the host now what your goals are.
Do your homework and research three people you want to meet.
Ask for introductions,
Always wear a nametag and make sure you wear it on the right side. Put your full name on the nametag.
Eat before you go to the event.
Who are you here to meet is
Have a few topics ready so you have something to talk about it. Avoid politics.
Practice the graceful exit. Thank the person you are speaking with for their time and let them know you need to go find someone.
Follow up with the people you meet within 48 hours! Send an email or even better, a handwritten note
Remember the more valuable your network is, the more valuable you are.
Additional Resources:
Millennials & Management: The Essential Guide to Making It Work at Work
Primal Leadership: Realizing the Power of Emotional Intelligence
Stand Out: How to Find Your Breakthrough Idea & Build a Following Around It
Never Eat Alone: And Other Secrets to Success, One Relationship at a Time