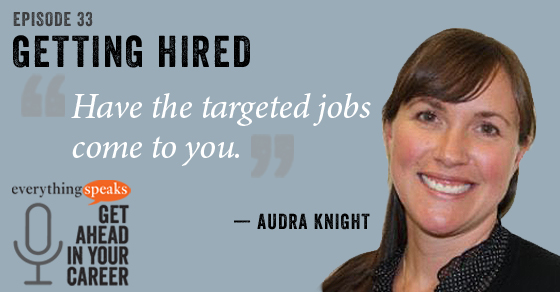 The 3 Step Process for Finding a Job (feat. Audra Knight)
In this new episode of Everything Speaks, recruitment marketing strategist at Tenable Network Security, Audra Knight, returns to talk to host Lee Caraher.  Together they talk about how to get hired, and more specifically, creative ways to make yourself stand out during the application process. Audra shares her tips on how to find a job, how to apply for a job, and what to do when you get called in for an interview.
Key takeaways: 
Getting hired is a numbers game. The more jobs you apply for the more likely you are to find a match.
Use an online job-find service like Indeed and have potential job matches emailed to you.
Most big companies let you fill out an online form so they can send you targeted jobs. Take advantage of this.
Use your social media platforms to search for jobs. Post something that says, "I'm looking for a career.
Before you accept a job with a company, visit review sites like Glassdoor. Check out what people are saying about the company.
Check out your interviewee's profile on LinkedIn before your meeting.
Where to find Audra: