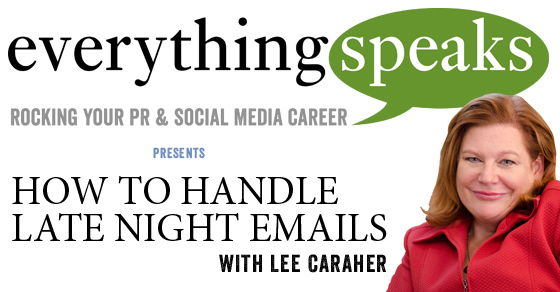 006: How to Handle Late Night Emails
On this solo episode of Everything Speaks our host Lee Caraher talks about how to handle "after hours" email.
We all have schedules that mean we're catching up with our "regular" work during "off hours:" – 7pm – 7am. At the same time our own schedules should not impose on the rest of your team. And if you're the boss and sending emails late at night you can create an unintended consequence of sending the message that what you value is late night work. And if you answer email after 7pm, you are setting the expectation that you are available and willing to work whenever. Not that you're not going to work throughout the day and night – you are: it's the only way most of us can handle all of the things we want to do every day.
Lee details 5 strategies to handle your off hours emails – sent or received – for efficiency, respect and urgent work.
Other Resources
HBR: Maura Thomas'  "Your Late Night Emails Are Hurting Your Team,